Attention Basketball parents and students in grades 7-12! You have a meeting this Sunday, October 9 at 5 p.m.

Today is our College and Career Fair!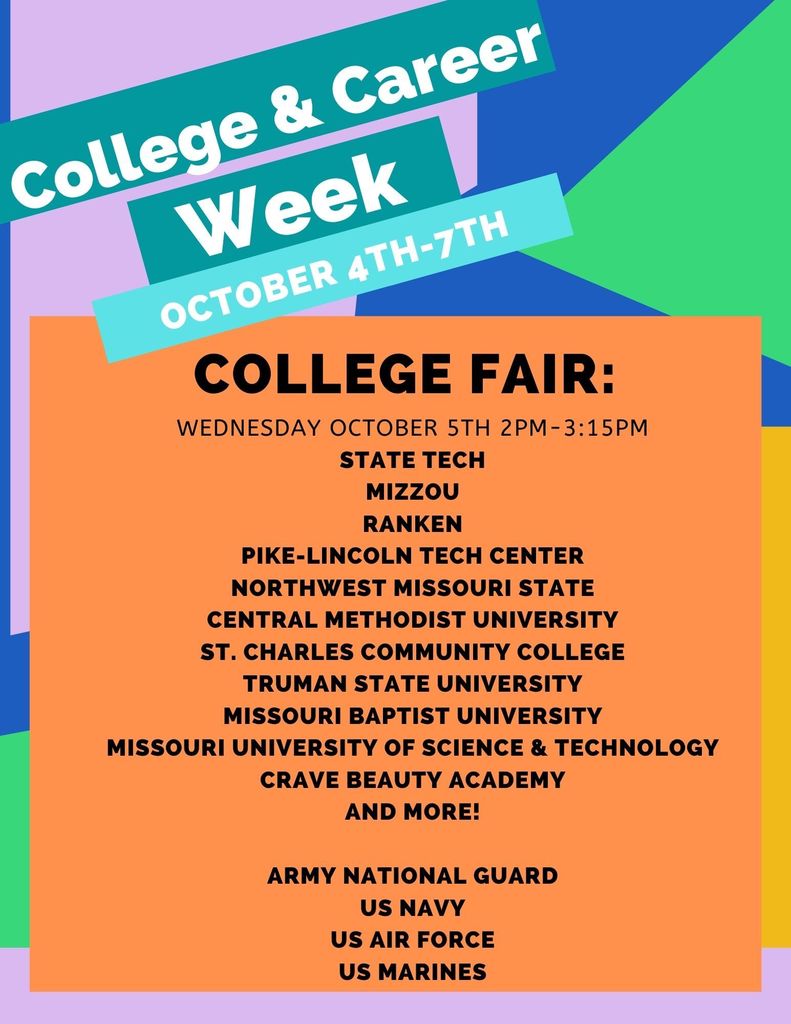 ELSBERRY HIGH SCHOOL – FALL SPORTS PHOTOS Sports Picture Day is Friday, October 21, 2022. NEW! ONLY ONLINE ORDERS WILL BE ACCEPTED by Wagner Portrait Group. (Please do not bring checks, cash, or order forms to school as they will no longer be accepted.) Online Pre-Order Password: ELHS2713
https://bit.ly/3SfoFiG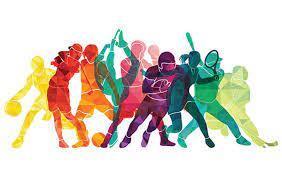 ELSBERRY HIGH SCHOOL Picture Day Is: Friday, October 21, 2022 Wagner Portrait Group will be photographing students for portrait packages & school records. ONLY ONLINE ORDERS WILL BE ACCEPTED. (Please do not bring checks, cash, or order forms to school as they will no longer be accepted.) CLICK HERE TO ORDER
https://bit.ly/3d5xlt3
www.WagnerPortraitGroup.com
Online Pre-Order Password: 3G9Q2Z2U Can't order online or have other questions? We are happy to help! 314-567-5900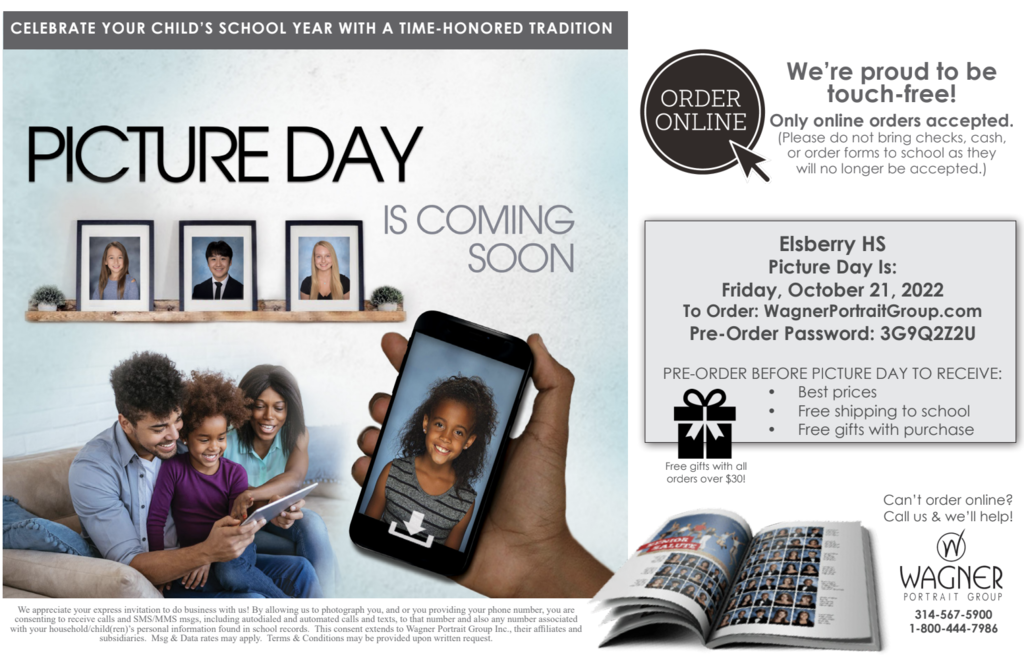 Here are the speakers for Tuesday, October 4 to kick off college and career week.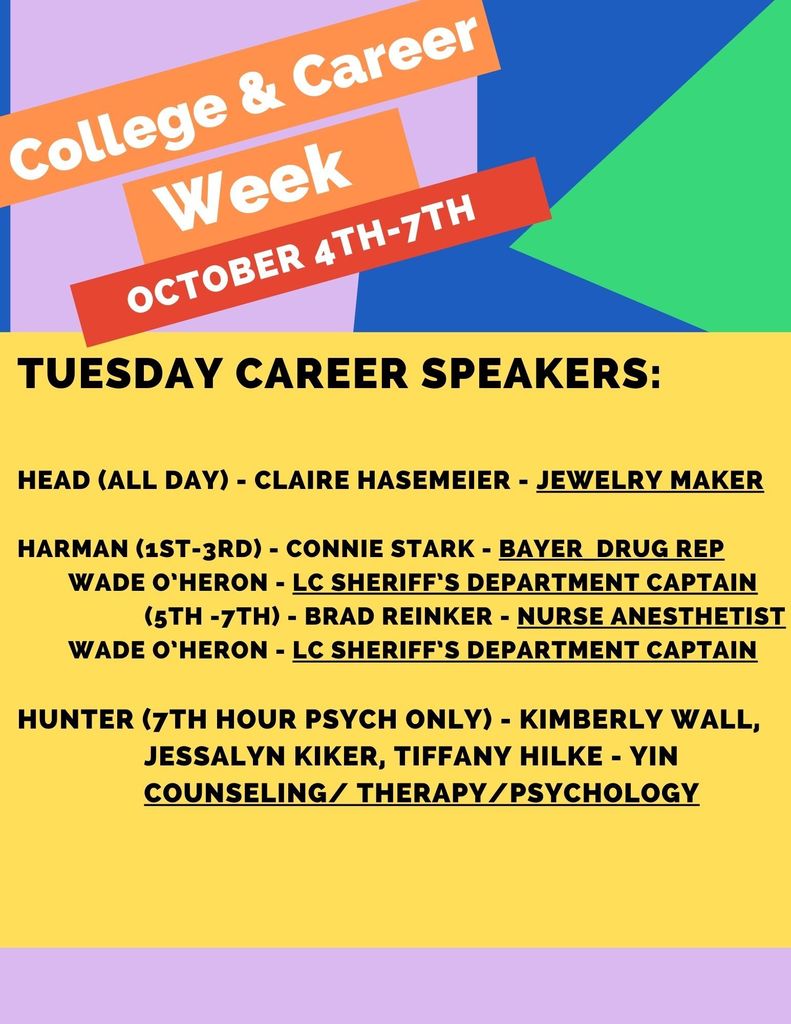 Don't forget, it is College and Career Week at EHS!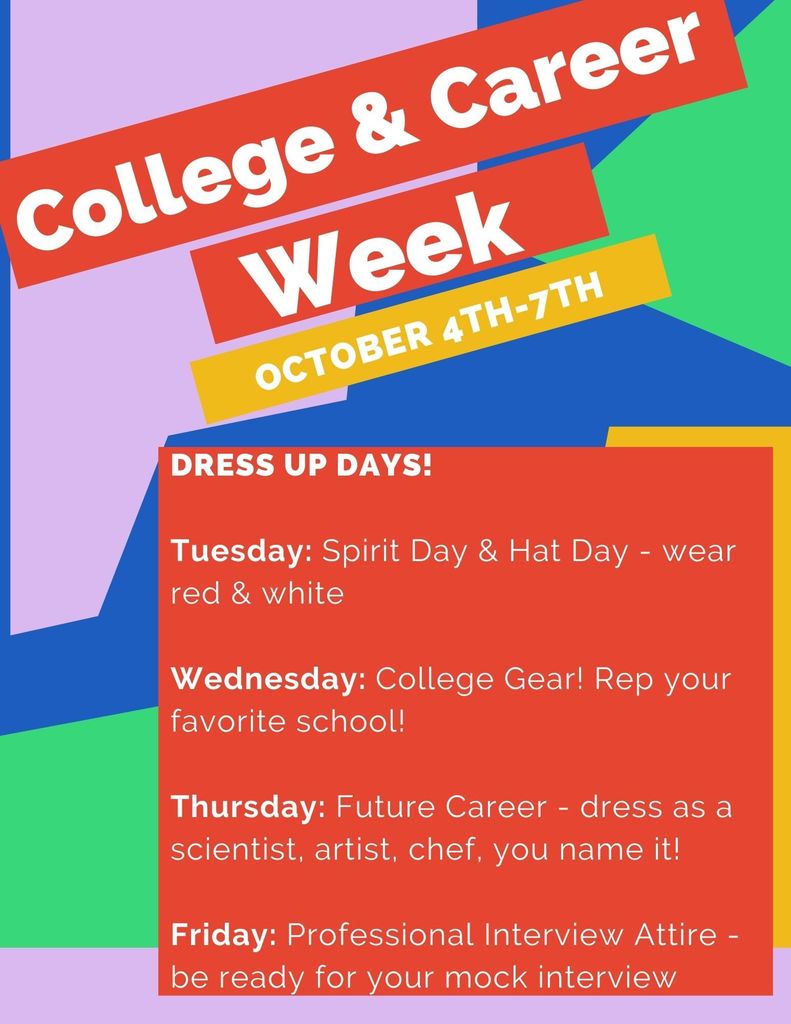 EHS Cross Country Update Dashaun Dodson sets EHS Cross Country record!! The Elsberry running Indians were in Kingdom City on October 1 for the North Callaway Invitational. The weather was beautiful, and the pace was blistering over the 3.1 mile course. Every EHS runner set a personal record and earned a medal. In the varsity boys division, Dashaun Dodson ran the fastest time ever recorded by an EHS cross country runner, finishing second in 17:11:58. All eyes were on the finish line as Dodson ran shoulder-to-shoulder with rival Sam Northcutt of Mark Twain. At the end, it was Dodson in front by three-tenths of a second. The runners will likely face each other again on the same course in two weeks at the EMO conference meet. We just might see a new school record then. Also in boys varsity competition, Jedidiah Heras ran in tenth place (18:09:92) and Nolan Wilson finished eleventh (18:10:73). Ellie Hartley ran a brisk 21:08:16 to finish second in the girls varsity race. Dodson, Wilson, Heras, and Hartley have taken their place among the elite runners in the area. In junior varsity girls competition, Chloe Howard won the girls race with training partner, Ali Hausgen finishing third. Noah Hausgen ran in third place in the boys JV race.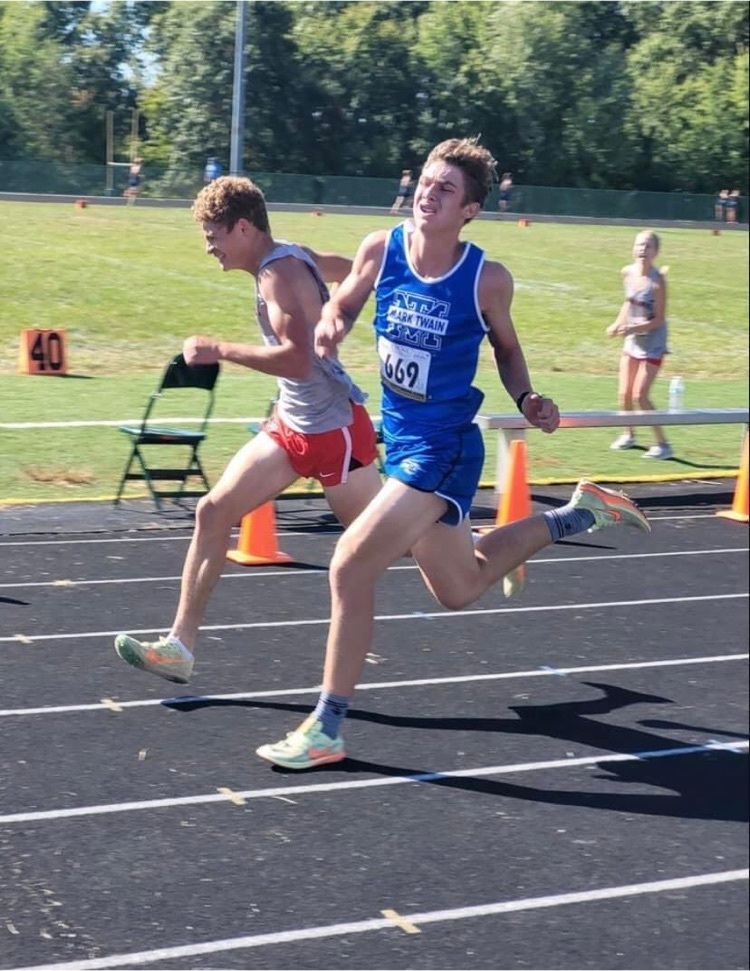 Congrats Elsberry FFA trap A Team!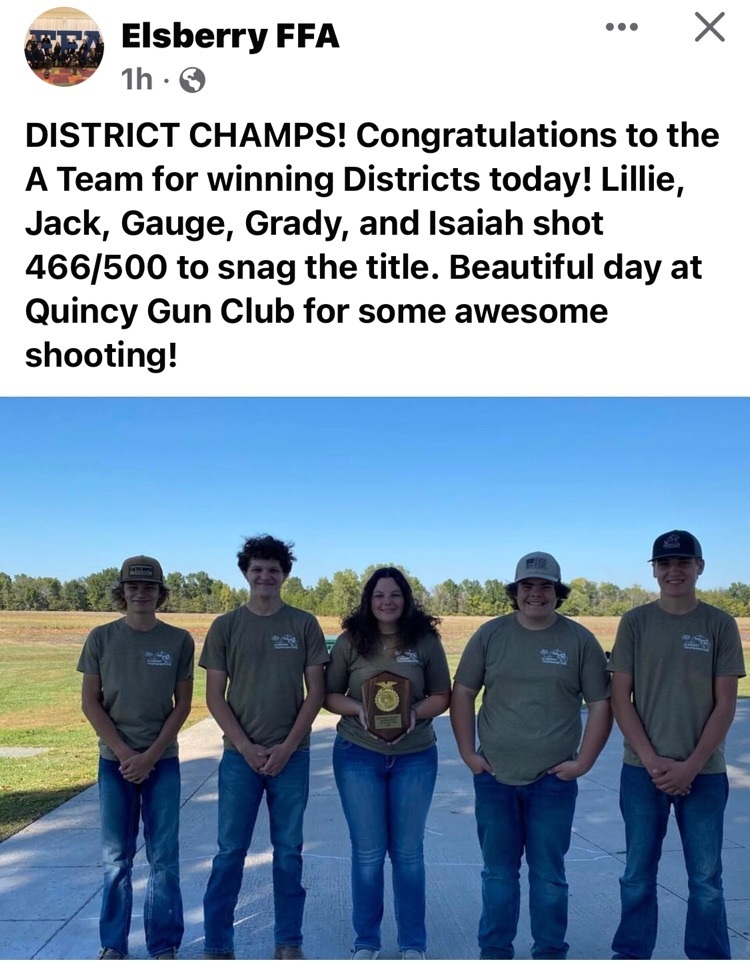 The EHS Yearbook group is selling QuikTrip cards. They are $20 and have a $94 value. Please see the attachment for details, but here is what is included: 5 Big Q drinks 1 small quikshake 2 BBQ sandwiches 1 whole sub 3 tacos 3 mac and cheese 1 breakfast biscuit 3 grilled cheese 5 hot drinks 2 pretzels 5 pizza slices and 3 breakfast tacos Contact Carolyn Harman, yearbook sponsor, if you have any questions or would like to make a purchase.
charman@elsberry.k12.mo.us

We are encouraging all students and staff to participate in College and Career week! Attached are the theme days for the week. Other activities include: - All students 9-12 will create a resume, cover letter, and participate in a Mock Interview (Interviews on Friday). Juniors and Seniors will receive interview prep practice. - Students 9-11 will complete an Interest Profiler to match them with careers and a Reality Check so they can budget for their intended lifestyle - Career Speakers in classrooms all week - College Fair on Wednesday, October 5th 2pm-3:15pm in the high school gym - Application Workshop for seniors in the library, all seniors will complete 1 application such as a college/tech school, job, scholarship, or FAFSA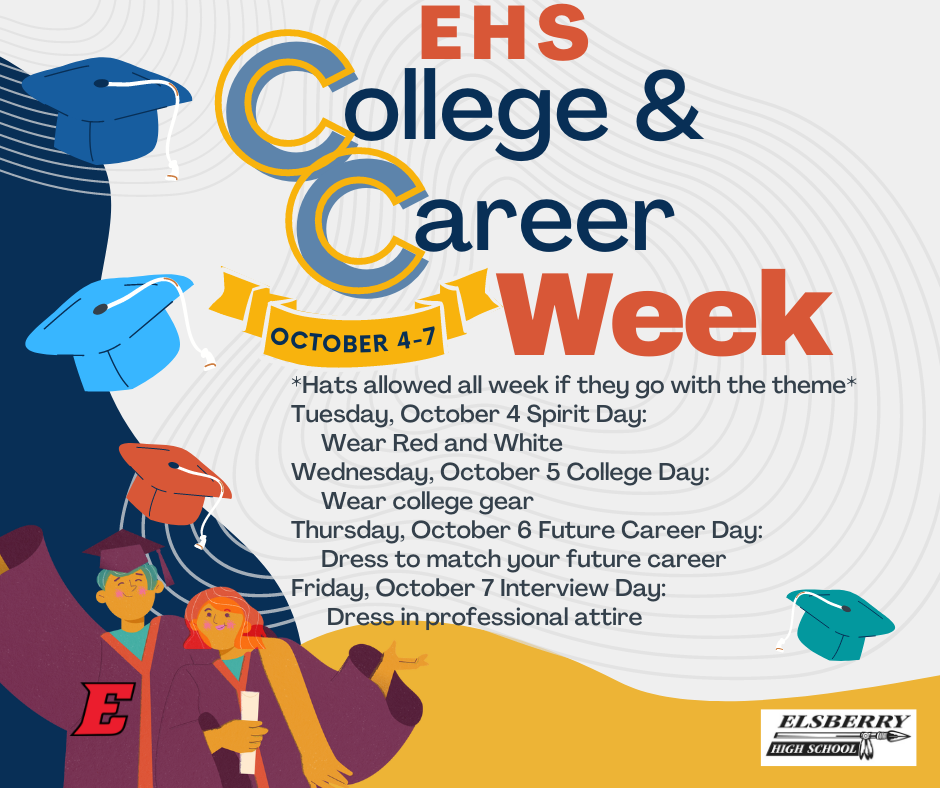 EHS softball will play in Louisiana this Saturday (10/1/22) 9:00 am vs Community 11:00 am vs Mark Twain 1:30 pm vs Louisiana

TONIGHT is Senior Information and Financial Aid Night at 7pm in the high school library. At this event, Ms. Towery will talk all about college admissions & applications, scholarships, how financial aid works, the FAFSA, benefits of taking the ACT vs. going "test optional," the A+ program, important deadlines for college & career decisions, and more. Come with all of your college and financial aid questions! Senior students and parents are encouraged to attend.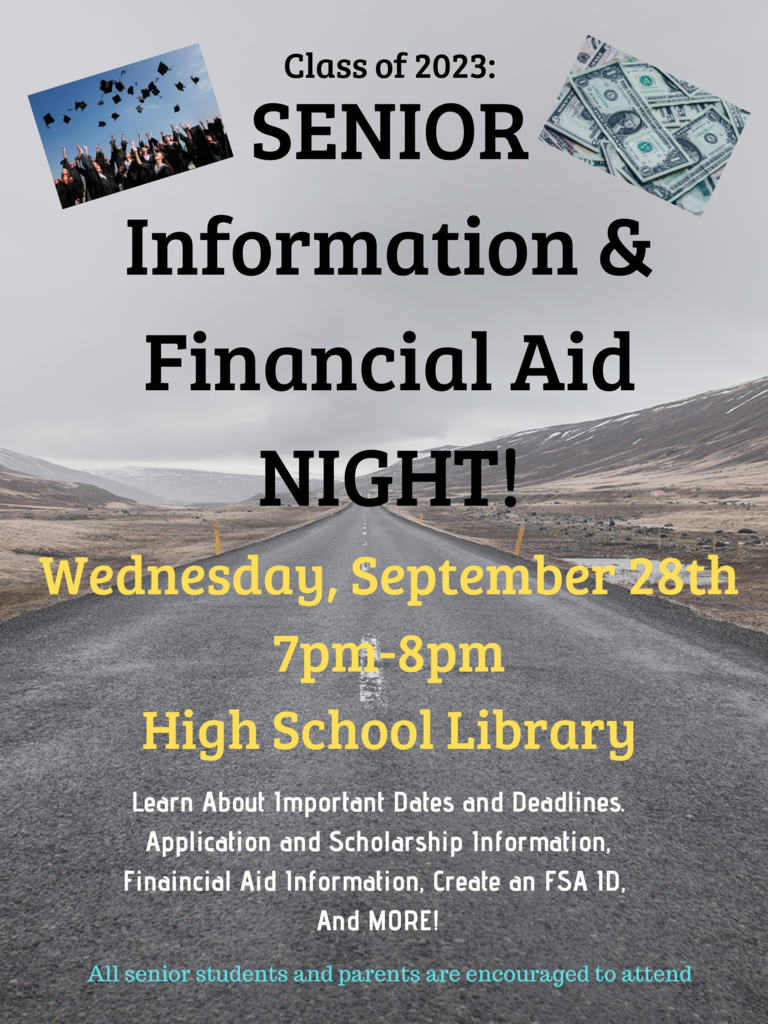 After reading the essay, "Man in the Water" by Roger Rosenblatt, sophomores in Mrs. Dormire's English 2 class answered questions and shared their ideas in a socratic seminar. The goal is to have students actively listen and respond to their peers, learn responsibility and accountability as they prepare for each seminar, and to maintain ownership of their learning.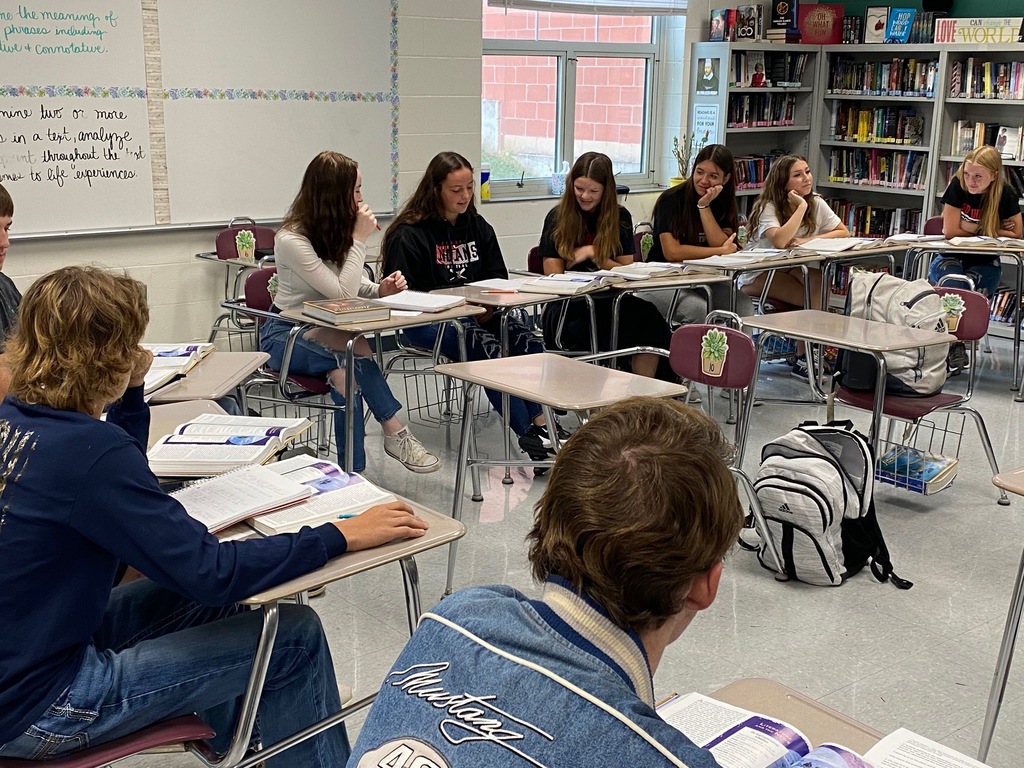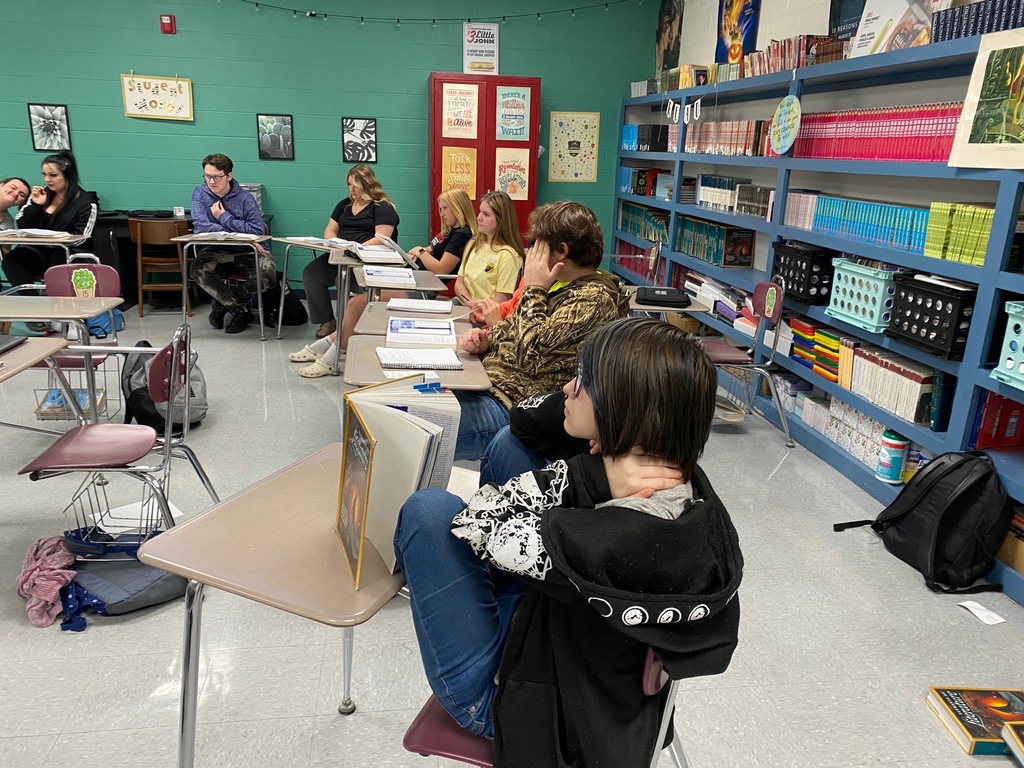 Coach Edwards is always on the go. She is one of the few staff members who works in all three of our buildings in addition to being a coach. Welcome to Elsberry!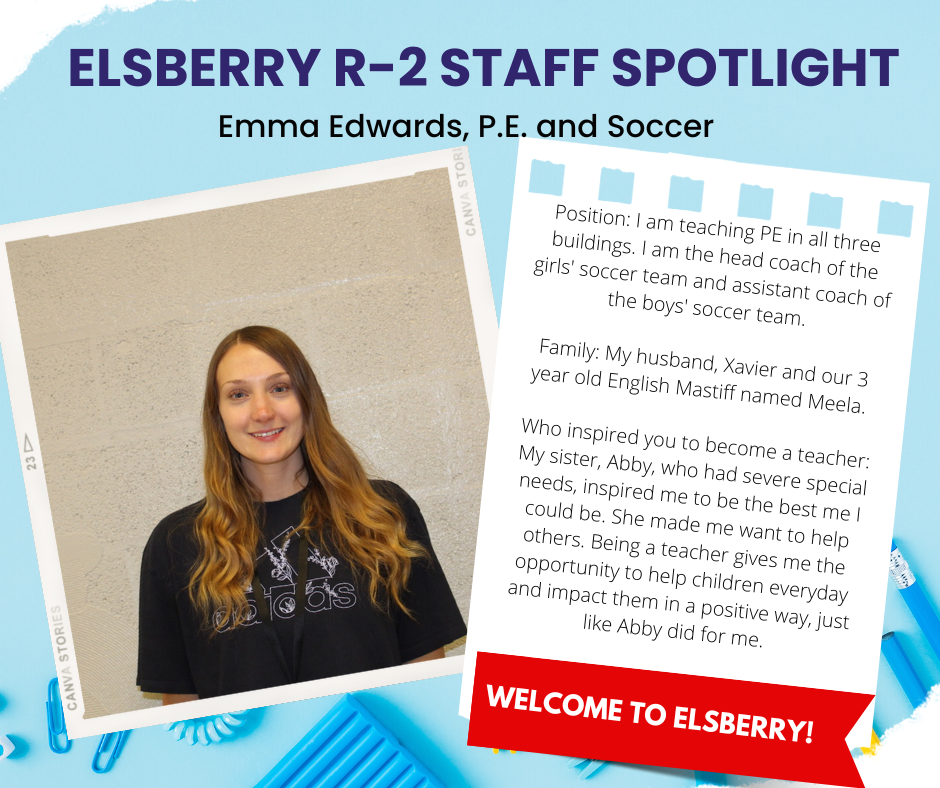 Sept. 26: Cross Country (Home) 4:00pm JV Football @ Orchard Farm 4:15pm Sept. 27: Softball vs Highland 5:00pm Sept. 28: Soccer vs Canton 4:15pm Senior Information and Financial Aid Night 7:00pm Sept. 29 Softball vs Mark Twain 5:00pm Sept. 30 Farm Safety Day All Day A+ Enrollments Due for Seniors Soccer vs Fulton 4:15pm Softball vs Fort Zumwalt East 4:30pm Football @ St Charles 7:00pm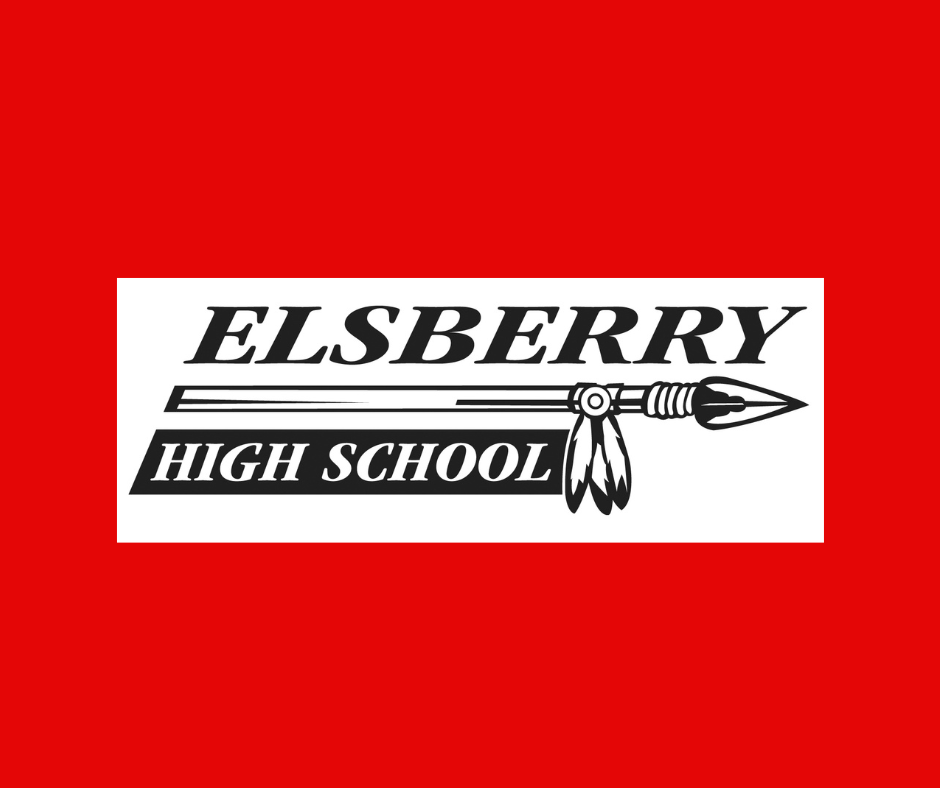 The tournament for EHS softball has been cancelled for Saturday 9/24.

HOMECOMING GAMEDAY! The Warriors are back at home in Winfield for a bout against the Orchard Farm Eagles. It's Homecoming, kickoff at 7:00pm! #PullTheRope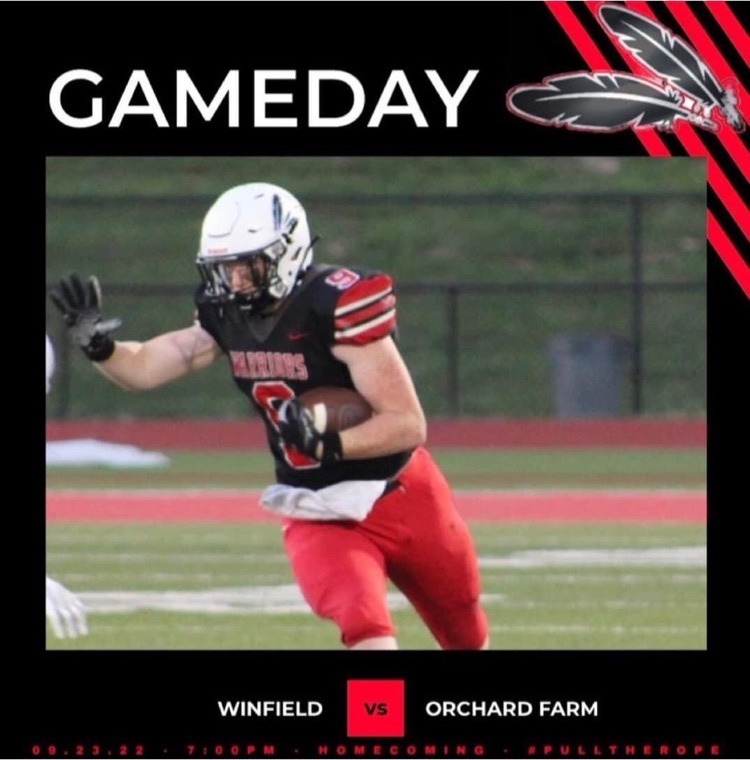 The junior class will be selling senior shirts and yard signs as a prom fundraiser. See the order form or visit them in person on Saturday, September 24 at their Fall Festival booth. Orders and money are due October 12. Items will be delivered the first week of November. *Cash or check made payable to Elsberry R-2* Contact class sponsor, Colleen Lilley, at
clilley@elsberry.k12.mo.us
if you have further questions.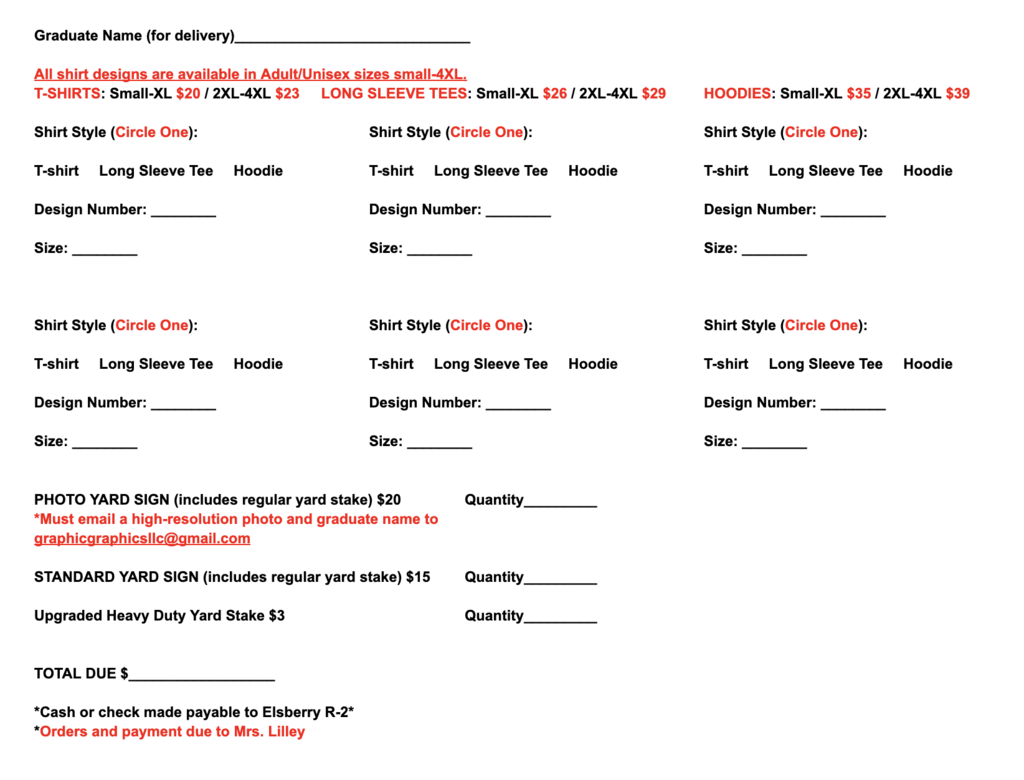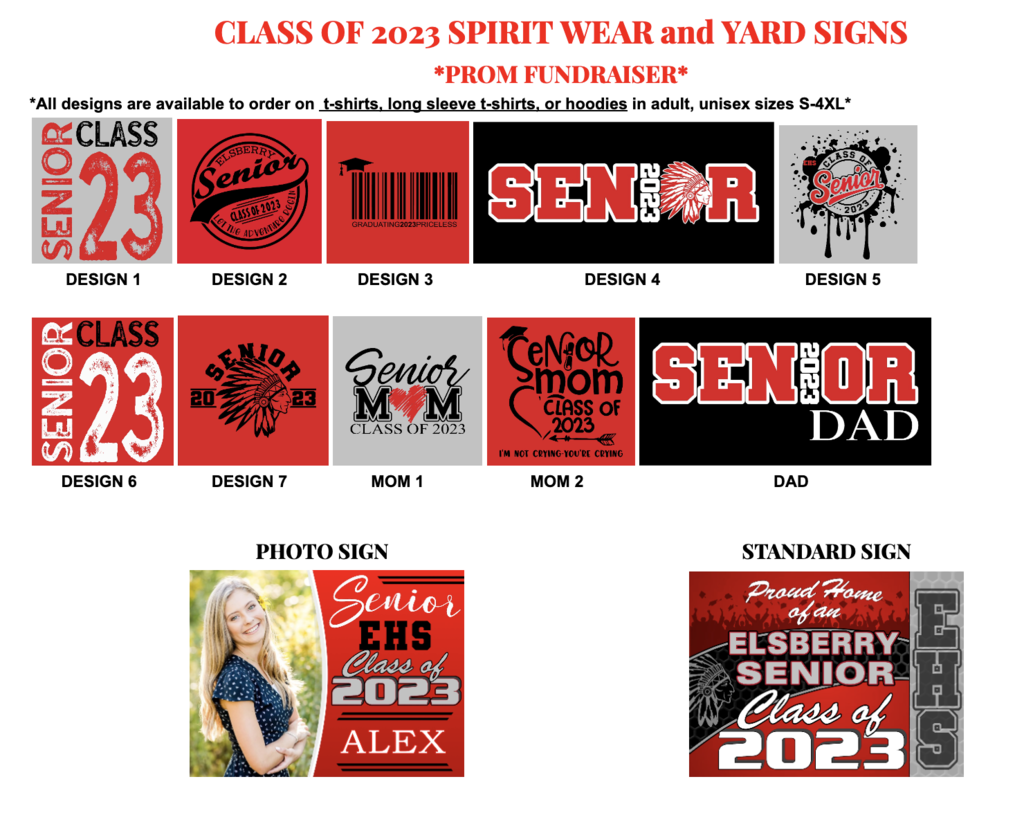 Mrs. Cooper has great news to share from the music department.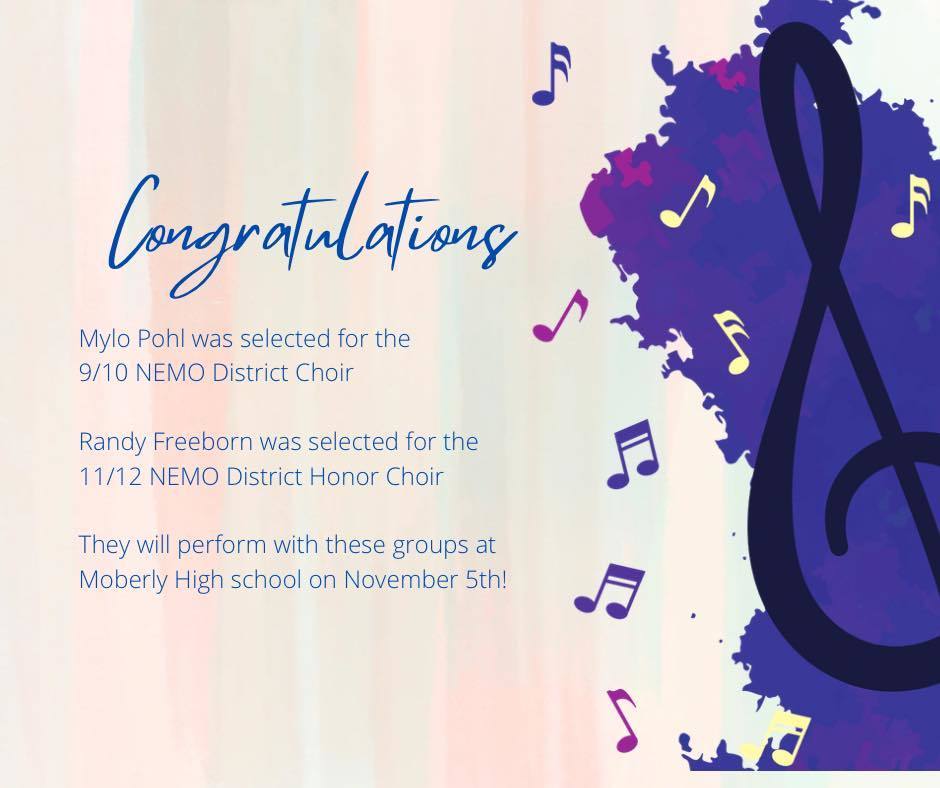 UPDATED: TIME ADJUSTED Wednesday, September 28th, from 7pm-8pm in the High School Library is Senior Night. Ms. Towery will present information regarding graduation requirements, important senior dates, college applications/admissions information, application deadlines, scholarship information and tips, general financial aid information, and we will create an FSA ID (necessary to complete the FAFSA) together. To clarify this is NOT FAFSA night. We will have a separate event for students and parents to complete their FAFSA. The FAFSA does not open until October 1st. FAFSA Night date TBD.